Medical Staffing Agency Services
Medical Office Assistant Jobs
Medical offices are often supported by medical staffing agencies. Recent events have caused an increase in medical office assistants jobs and medical receptionist jobs as well as many other important support roles within the medical offices.
As with hospitals, administrative healthcare staff are needed to support the large volume of insurance, compliance and documentation demands that are required of all hospitals.
Healthcare administration jobs can range from patient support and being people-oriented to being highly detail and data-oriented. Ardent can help you find the right fit for you.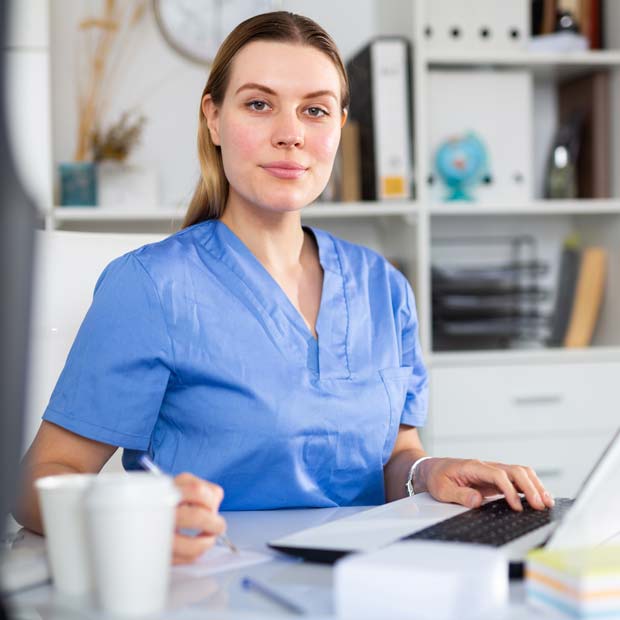 Medical Office Front Desk Receptionist
The front desk receptionist at a clinic is primarily responsible for greeting visitors, checking patients in for appointments, scheduling appointments, answering the phones directing calls.
Medical Transcriptionist
Medical transcriptionists are responsible for transcribing audio that was recorded by a medical professional during a patient consultation, discharge summary, or patient history. Medical Transcriptionist jobs require a strong understanding of "medical jargon" and abbreviations so you can spot any errors made by the physician during documentation.
Patient Services Representative
Patient services representatives are generally the first person a patient interacts with in a healthcare facility. This is sometimes also considered a receptionist. They are responsible for checking a patient in, collecting relevant insurance information, scheduling appointments, and more. It can be a hectic job for larger and busier healthcare facilities that handle a heavy patient load.
Patient Account Representative
A patient account representative works closely with insurance claims, payments, and any issues that might arise with a patient's account at a healthcare facility. Whenever a patient has a question about a bill or payment, they will generally speak with a patient account representative to resolve their issue. As a patient account representative you will also have to track down patients for payments if they have lapsed on a bill.
Medical Biller
Medical billing and coding has become an increasingly important profession in the healthcare industry as more healthcare facilities move to electronic health records. A medical biller is responsible for ensuring that bills are issued and collected in a timely manner every time a patient receives treatment. As a medical biller, you will need to understand the complex nature of insurance and keep up to date on any changes in Medicaid, Medicare, and similar programs.
Certified Professional Coder
A certified professional coder (CDC) oversees medical coding at a healthcare facility and ensuring all coding remains within applicable laws and regulations. It's mostly an administrative role, but coding is necessary for any healthcare facility to ensure claims and bills are properly processed. As a CPC you will need to stay on top of the latest insurance codes and any changes that may arise.
communication skills since much of your job will require you to interact closely with patients and medical personnel.
Our Passion is People
Let Ardent Staffing Help You Find Your Next Temporary or Permanent Position!
Sheryl Kosakowski, Staffing Specialist
Ardent Staffing Solutions
Ardent is an expert in connecting talented people with amazing companies.
Have a Question or Comment? Contact Us!
"*" indicates required fields