The Ardent Staffing Leadership Team is a force to be reckoned with. The definition of the word Ardent is passionate enthusiasm and you will feel that passion in every interaction with every member of our team. Because we stay in close and constant contact with local employers and candidates we always have an accurate pulse of the market and the economy. This helps us stay proactive to help our customers plan, but also always us to be nimble to respond to unexpected staffing needs.
Our goal is to provide our customers with valuable staffing and recruiting services and our employees with meaningful temporary or permanent employment. Our recruiters pride themselves on their ability to think creatively, listen intently, and offer effective results for even the most complex staffing challenges.
Daphne Phalon
Founder & President
Hometown: Southborough, MA
One Piece of Advice for Someone on the Job Hunt: Be bold and take a chance.
Pump Up Song: I Am Woman, by Emmy Meli
What's on My Desk: Always, always, always a cup of coffee (maybe two) and the Christmas cactus my mom gave me on the first day of my first job!
Favorite Color: Ardent Blue, of course!
Experience: I can confidently say I have held just about every position in staffing including Recruiter, Sales, HR, Safety Manager, COO, and Business Owner and I have learned something different from each. Here at Ardent Staffing I get to work with some incredibly dynamic and inspiring people and bring everything I know and love about staffing together to deliver a different level of service. Outside of Ardent Staffing, I am active with the American and the Massachusetts Staffing Associations and a member of the Marlborough and Worcester Chambers of Commerce.
What Makes Me Tick: Family and faith above all else, but community is a close third. I love being engaged with people. One could say that people are my passion!
Education: Bachelor's from UMass, Lowell, Certified SPHR, SHRM-SCP) and ASA Certified Staffing Professional.
Kerry Wanamaker
Staffing Specialist
Hometown: Hudson, MA
One Piece of Advice for Someone on the Job Hunt: Be patient & don't settle - trust the process, it will all come together in the end!
Pump Up Song: I Ain't Worried, by OneRepublic
What's on My Desk: A cold cup of coffee from my morning coffee run, my cell phone, and my favorite hand sanitizer!
Favorite Color: I can't pick one - Red, Purple, & Navy
Education: Bachelor's from Worcester State University & Masters degree from American International College in Early Childhood Education
What Makes Me Tick: My family for sure! I'm a proud mom of 4 talented and thoughtful kids, a wife to an outstanding husband, and a Dog Mom to our Bernedoodle pup, Frankie. Being a mother has been the single most, greatest achievement in my life. I'm grateful and blessed to see them grow, develop, and follow their own dreams!
Experience: My background is in the Education field and Kindergarten was my favorite grade level. After many years, I suddenly felt called to do something new. I followed my passion for helping others into the world of Staffing! It's been a fun learning experience and further proof that we can always learn something new!
Sheryl Kosakowski
Staffing Specialist
Hometown: Hampden, MA
One Piece of Advice for Someone on the Job Hunt: Don't sweat the small stuff - the process might seem daunting, but take it one step at a time. If you are feeling overwhelmed - ask for help!
Pump Up Song: Back in Black, by AC/DC
What's on My Desk: Always a can of La Croix seltzer, ice water, lots of pens, and my Google Home!
Favorite Color: Fuschia
What Makes Me Tick: My children are the driving force behind everything I do. I am blessed and grateful everyday to watch them learn, grow, and expand their curiosities. Also, my partner, David, in my life, who is always by my side.
Experience: I began my career as a traveling Leasing Agent/Property Manager which allowed me to see the US. I eventually moved back to Massachusetts and stumbled into Graduate Recruitment for an All-Women's University where I worked for 10 years. After taking some time off during COVID, I wanted to continue my career in recruitment. That is when I found Ardent Staffing and began my staffing career.
Education: Bachelor's from University of Colorado, Masters in Communications and MBA in Entrepreneurial Thinking, both from Bay Path University
Katie Kalinowski
Social Media & Marketing Director
Hometown: Southborough, MA
One Piece of Advice for Someone on the Job Hunt: You should feel inspired by what you do & the people you work with. If you feel trapped, lost or have no passion for what you do… move on and find something that inspires you!
Pump Up Song: Pumpin' Blood (Jane Doze Remix), by NONONO
What's on My Desk: My paper planner, giant glass of water and more rainbow pens than anyone reasonably could ever need!
Favorite Color: Yellow, the brighter the better!
What Makes Me Tick: I love bright colors and a little sparkle. For me being surrounded by bright, energetic colors brings out my own energy. I am also very, very organized…sometimes it's a little too organized, but I make it work!
Experience: Since graduating from USC, I have engaged in various creative positions and acquired experience in social media management, photography, content writing & SEO, branding more. I am passionate about showcasing the value that small businesses have to offer.
Education: Bachelor of Science in Retail - Fashion Merchandising & Digital Innovation from University of South Carolina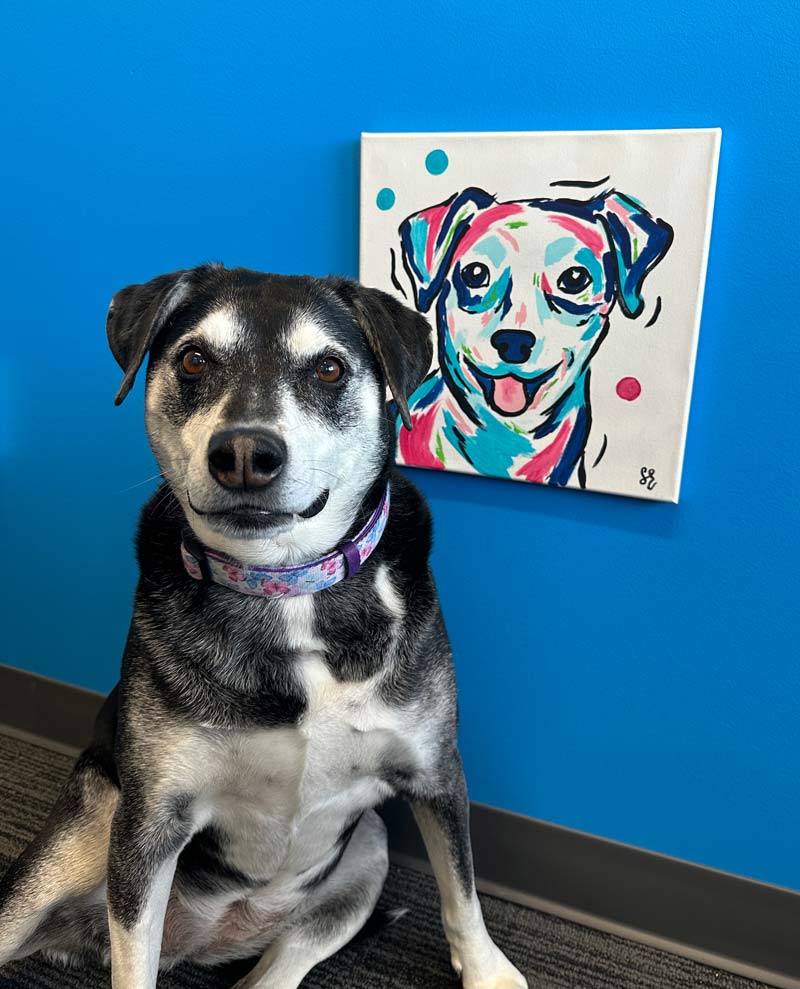 Our Mascot
Shelby, The Ardent Rescue Dog
I am Daphne's favorite thing on the planet, at least I think I am! Daphne and her family rescued me from a shelter when I was just 6 weeks old. I am one lucky pup because I get kind of pampered. (I even sneak onto the couch sometimes when my family isn't home) Best of all, sometimes I get to go to the office with Daphne. Most days you can find me cuddled up under Daphne's desk on my favorite Red Sox blanket or waiting patiently by her door. I love to meet new people and often escape from Daphne's office to greet candidates who are coming for an interview. Even when I'm not in the office, my portrait hangs on the wall!
Favorite Activity: Chasing a Chuck-it ball (or the deer) in the back yard or swimming in any lake
One Piece of Advice for Someone on the Job Hunt: I don't know anything about jobs or job hunting, but I like snacks so you should give me one!
Our Passion is People
Let Ardent Staffing Help You Find Your Next Temporary or Permanent Position!
Browse Job Specialties and Industries
Ardent is an expert in connecting talented people with amazing companies.
For Employers: Let Ardent help with all your staffing needs.