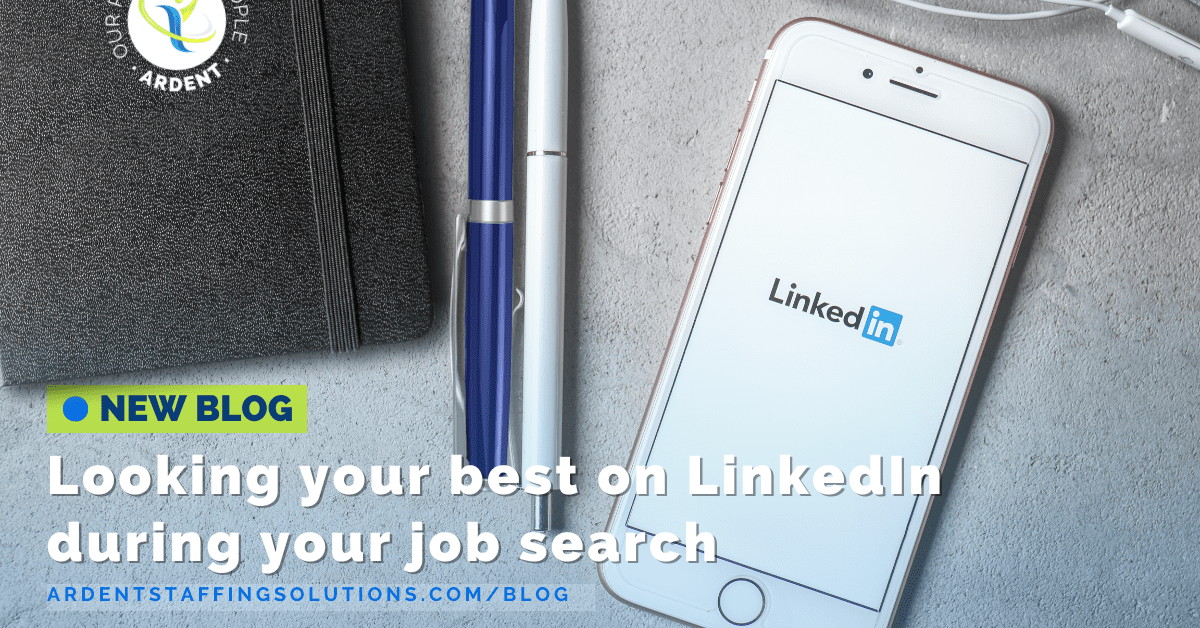 In today's competitive job market, having a strong online presence is crucial for career success. More than ever, hiring managers are looking at social media profiles of potential employees during the hiring process. Among the various platforms available, LinkedIn stands out as the premier professional networking site. It serves as a virtual resume, a networking hub, and a valuable tool for job seekers. For all of these reasons, if you are actively looking for work in any type of professional business, it is important that your LinkedIn profile is up to date and helps you shine. In this blog post, we will explore effective strategies to enhance your LinkedIn profile when you are actively seeking a professional job.
Craft a Compelling Headline: Your LinkedIn headline is the first thing recruiters and potential employers see when they visit your profile. Instead of simply listing your job title, use this space to showcase your unique value proposition. Highlight your skills, accomplishments, and areas of expertise to grab attention and differentiate yourself from other candidates.

Optimize Your Profile Picture and Background Photo: Don't use a candid selfie with another person partially crossed out… Please. Choose a high-quality, professional-looking headshot for your profile picture. Dress appropriately for the industry you're targeting and maintain a friendly, approachable demeanor. Additionally, utilize the background photo to showcase your personality or visually represent your professional brand. It could be an image related to your industry or a visual representation of your achievements.

Craft a Compelling Summary: Your LinkedIn summary should serve as a captivating elevator pitch. It should provide a concise overview of your professional background, key skills, and career aspirations. Use this section to demonstrate your unique strengths and accomplishments, emphasizing how you can add value to an organization. Incorporate relevant keywords to enhance searchability and show your industry knowledge. If you are looking for a specific type of position, make sure your profile and summary illustrate that goal.

Showcase Your Work Experience: When highlighting your work experience, focus on quantifiable achievements and specific responsibilities. Use bullet points to provide concise yet impactful descriptions of your accomplishments. Incorporate relevant metrics, such as percentages or monetary figures, to provide context and demonstrate the value you brought to previous roles. Don't forget to include any relevant volunteer work, internships, or freelance projects to showcase your versatility and commitment to professional growth.

Leverage Recommendations and Endorsements: LinkedIn recommendations from former colleagues, supervisors, or clients can significantly boost your credibility. If you don't have any endorsements or recommendations yet, just ask for them. Reach out to individuals you have worked closely with and kindly request a recommendation that highlights your strengths and work ethic. Additionally, actively seek endorsements for your skills by endorsing others in your network. Reciprocity often leads to others endorsing you in return.

Engage in Thoughtful Content Creation: Demonstrate your expertise and industry knowledge by sharing relevant articles, insights, or thought-provoking content on LinkedIn. This positions you as an active and engaged professional, capturing the attention of potential employers and fostering connections with like-minded individuals. Engage with others' content by commenting thoughtfully and initiating meaningful conversations to expand your network and gain visibility.

Join Relevant LinkedIn Groups: Participating in LinkedIn groups related to your industry or desired job can provide valuable networking opportunities. Engage in discussions, ask questions, and contribute insightful comments to establish yourself as a knowledgeable and proactive professional. Actively participating in groups also allows you to stay updated on industry trends, job openings, and networking events.

Be Active and Responsive: Consistency is key when it comes to maintaining an effective LinkedIn presence. Regularly update your profile with new achievements, certifications, or projects. Respond promptly to messages and connection requests, demonstrating your professionalism and dedication. Engage with your connections' content, celebrate their successes, and offer support when possible. Building authentic relationships will enhance your professional network and increase your chances of finding suitable job opportunities.
By implementing these strategies, you can transform your LinkedIn profile into a powerful tool for job hunting. Investing a little time and effort in optimizing your profile can help you stand out from the crowd. Remember, LinkedIn is not only a platform for job seekers but also an invaluable resource for building. Need help fine tuning your profile? Reach out to any of the Ardent Staffing Recruiters for assistance and feedback. Its just one of the many resources Ardent Staffing offers to our candidates.